Incorporating Manufactured Stone Veneer in Your Home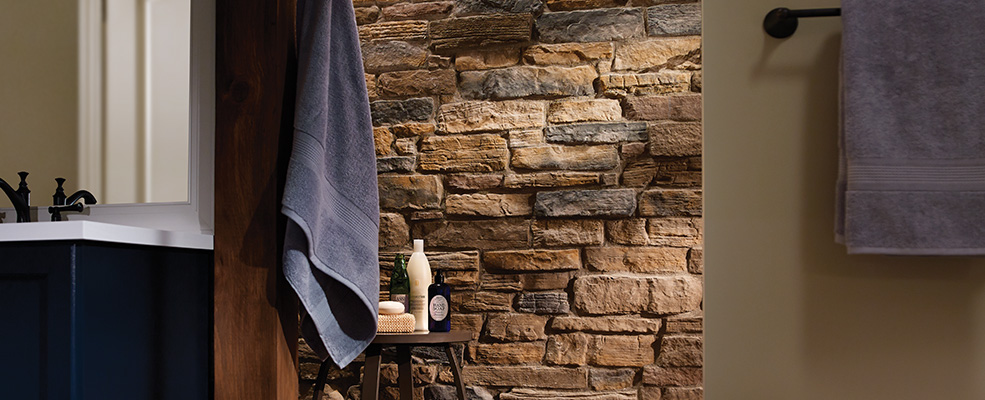 With most of the U.S. observing a level of quarantine to curb the spread of COVID-19, a majority of people are spending a lot more time in their homes. Now that the interior and exterior of our homes have become the totality of our worlds, a lot of people are examining these areas with a critical eye and a view toward mixing things up.
Faux stone projects are a great way to update the look and feel of your home. Affordable, versatile, and dramatic, manufactured stone veneer panels are being used by professionals and DIY-ers alike to create both rustic and modern looks that transform rooms and spaces.
Take a look at these on-trend interior design ideas using faux stone panels:
Brick Accent Wall
Bring rustic elegance to your kitchen or other living space with the timeless appeal of faux brick panels. Easier to install and maintain than real brick, faux brick panels add contrast and texture to an otherwise dull painted room.
Stone Bar Top
One of the most popular trends in interior design is creating upgraded outdoor living spaces that effectively extend your interior rooms. Elaborate decks, patios, and porches can help bring your living room, dining room, or kitchen into the outdoor environment. Many include features such as grills, breakfast bars, and outdoor kitchens—structures that readily lend themselves to the use of faux stone. Stone veneer panels are installed on the tops and surrounds of these structures, contrasting nicely with wooden cabinetry and granite surfaces while adding additional color and texture.
Stone Columns
Exterior and interior pillars and columns can be decorative or functional. Why not both? Try using stacked stone pillar kits to bring a high-end look to the pillars and columns on your porch or deck. Faux stone and brick can also be used to enhance the design appeal of your interior pillars and columns, too.
Tastefully blending design elements that bring color and texture into your home work in almost all types of décor. Why not use some of this mandated indoor time to evaluate what your home may need to look fresher and more on-trend? Make a list of the things you can do to enhance the design appeal of your home when design showrooms reopen to the public.
Finding ways to incorporate faux stone panels or stacked stone pillar kits throughout the interior and exterior of your home will make your home more appealing for years to come.